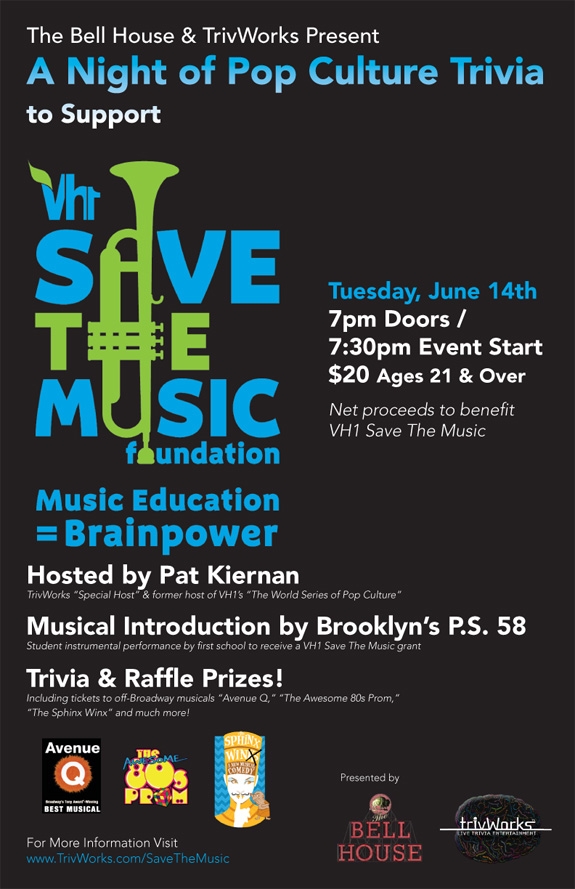 In a very special event, The Bell House, Brooklyn's premier music venue, is teaming up with TrivWorks to create a fun, high-energy fundraiser for VH1 Save The Music, a foundation dedicated to raising awareness about the importance of music education in local schools!
Enjoy the TV game show experience firsthand as Pat Kiernan, TrivWorks "Special Host" and former host of VH1's The World Series of Pop Culture, tests your team's knowledge of the sounds, styles and personalities which have shaped pop culture & music in recent decades!
Complete with both individual & group trivia questions, raffle and a high-stakes "showdown" finale, this dynamic & engaging event allows the entire audience to participate, as well as the chance to win off-Broadway musical tickets to see "Avenue Q," "The Awesome 80s Prom," "The Sphinx Winx" and more!
Featuring a special performance by students from Brooklyn's P.S. 58, the first school to receive a VH1 Save The Music grant, net ticket proceeds will go towards VH1 Save The Music.