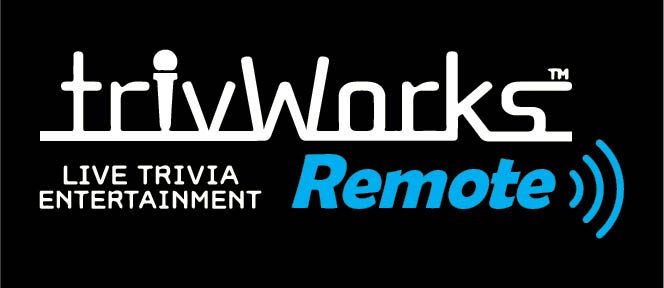 Is your team working remotely?
Do you need a fun & effective way to boost morale and re-establish connections?
TrivWorks offers virtual team trivia events, with TrivWorks Remote!
Since 2009, TrivWorks has been in the industry leader in corporate & private trivia event entertainment, entrusted by small businesses to Fortune 500 companies nationwide. With TrivWorks Remote, your group can enjoy a virtual team building trivia experience, utilizing Zoom meeting technology!
Following a simple customization process, your group will log onto Zoom and be led through a fun & engaging online team trivia contest, led by a TWO professional corporate emcees! Featuring questions tailored for your specific audience, we will lead the room through multiple team trivia rounds. While grading takes place, our emcees will continue to engage and entertain participants by leading a series of fun interstitial games!
We shall provide:
Customization questionnaire / general knowledge & pop culture trivia selected from our database, OR
Advance customization call / researching & writing original trivia questions

Two professional corporate emcees to lead event
Up to 60 minutes (or more) of team trivia entertainment for your ENTIRE group

Interstitial entertainment between team trivia rounds
Counsel on team breakdown / balance
Custom-branded PPT deck & digital answer submission form to accompany trivia contest
Ongoing counsel regarding all aspects of the event
Detailed event recap
Ideal for groups small and large, we can build an event which is perfectly suited to your needs. Guaranteed to be clean and professional from start to finish, you can entrust TrivWorks to represent you perfectly, and to deliver an enjoyable interactive experience for EVERYONE in attendance. No matter where your audience is physically, let TrivWorks help keep them connected and engaged during this challenging time, to keep morale and productivity high!
Inquire about having one of our "Special Talent" emcees lead you event, including celebrity comedians, media personalities, illusionists and more!
**No software, equipment or materials needed beyond Zoom!
"TrivWorks provided us with an exceptional virtual team building experience while we are navigating working remotely! Everything from the hosts to the technical ease was just top notch and we cannot wait to have another event with them!"

Maureen Boxer – Blue Wolf Capital, New York City