Corporate Trivia Event Entertainment Nationwide!
So many company events STINK.
However, what if your next event…DOESN'T stink?
Imagine if instead of being a chore, your group thinks the activity you've chosen is…AWESOME!
Meet TrivWorks – since 2009, we've produced raucous, laugh-filled corporate entertainment events, built around fully-customized team trivia contests!
Our trivia events are designed to create an extremely fun, high-energy social environment which promotes teamwork, communication and collaboration. More than simply an entertaining corporate game show, we produce a unique atmosphere which naturally allows people to get to know about each other, encourages loyalty, promotes engagement, and produces lasting positive memories which will be talked about long after the event is over!
We Specialize in Producing Live Trivia Events For:
Staff Parties (Holiday, Outing, Reward Etc.)
New, Loyal & Prospective Client Entertainment
Summer Associate & Intern Entertainment
Conferences/Conventions/Meeting Breaks
After Dinner Entertainment
Brand Awareness & Engagement/Experiential Marketing
Offsite Retreats
Galas/Fund Raisers
Private Parties
How We Do It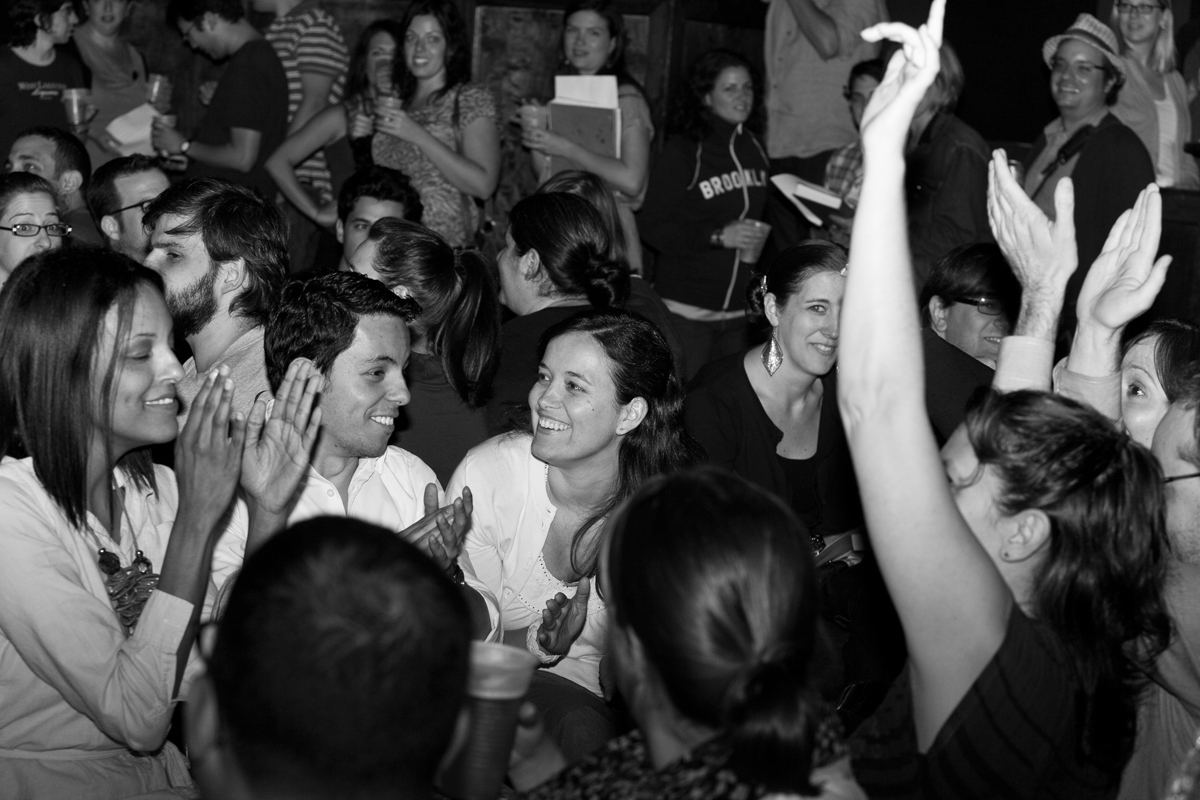 Customization is essential for creating successful team building and group entertainment events. Through a proven customization process, TrivWorks creatively tailors our questions to your specific attendees and goals, in order to make the experience as fun, memorable and impactful as possible. Full customization is a core element of our service, and is never considered an add-on; we will ALWAYS create original questions specifically for your group!
Upon arranging your event with us, we shall schedule a concise yet comprehensive customization meeting in advance, so that we may tailor the event to your specific group and goals.
Next, we will research and write a set of original trivia questions for your event based on our customization meeting, which you will have the option of reviewing in advance if you choose. In the days leading up to the event date, we will provide you with a detailed event outline and timeline for your convenience.
We will then work with you in advance of the event to break your group down into teams, guaranteeing an optimal competitive environment which will allow your group to get to know each other extremely well in a short period of time. Groups are typically broken into teams of 4-8 players, to create an optimal collaborative experience. We have produced events for groups as small as 15, to as large as 1,500+!
Next, we will partner with you to find the most appropriate venue for your event, providing recommendation and advance technical walk-through if needed. We can produce our trivia events virtually anywhere, both onsite and offsite, provided we have a private space with ample seating.
At the event, our host will provide orientation and announce the first round of questions, upon which your attendees will collaborate and write down their answers on provided sheets. Once the round is completed, our dedicated grading staff will collect and tabulate scores, while your group either socializes or participates in 1-on-1 trivia "mini games." Answers and standings will then be announced, and the following round will begin.
Our trivia events typically last 1-2 hours, consisting up to 6 rounds of 10 questions each, as well as up to 4 "mini game" bouts in between rounds – however, event times can absolutely accommodate to your specific needs.
Out events are designed to be extremely flexible, and setup time is minimal – we will provide everything required including pens, answer sheets, raffle tickets and small prizes. If your venue does not have a built-in sound projection system, we will bring our own professional-quality A/V equipment.
Unlike other group bonding events which involve getting sweaty or dirty, risk injury, exclude those who can't participate, or are only offered seasonally/weather-permitting, TrivWorks guarantees to provide a challenging, stimulating yet exceedingly fun activity for your ENTIRE group in a safe, clean venue year-round, day or night, rain or shine!
Ready to get started? Click the above link to submit an inquiry, contact our New York City office at (917) 363-3295, or reach us by email at david@trivworks.com