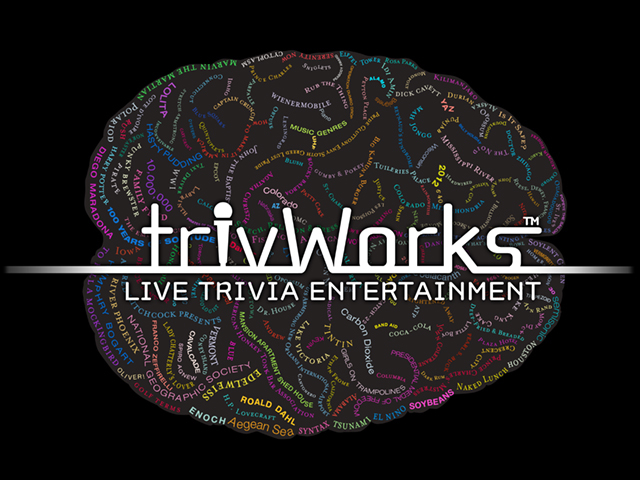 Founded in 2009 in New York City, TrivWorks™ is the industry's leading corporate entertainment and team building company specializing in live customized trivia events. Following the 2008 economic downturn, David Jacobson, a seasoned event programmer/producer and service industry professional, recognized the urgent need for companies large and small to keep productivity and morale high, retain top talent, and ensure that valued clients continue to provide their business. It was in direct response to this growing need for enjoyable, effective and collaborative entertainment and team building activities that TrivWorks™ was established.
Creating highly social and positive shared experiences built around a competitive team trivia contest, TrivWorks™ combines expertly written custom questions, carefully assembled teams, and professional corporate event emcees to produce a highly energetic and engaging experience like no other. As the economy has improved, TrivWorks™ has grown to offer event planners from New York City to Southern California and everywhere in between with fresh and unique solutions for engaging audiences nationwide, boosting employee morale, rewarding client loyalty, and reinforcing key messaging in a way that traditional corporate entertainment and group bonding activities cannot.
TrivWorks™ has gradually expanded our services over the years by offering a wide range of hosts & experiences, intended to enhance our team trivia events. In addition to our roster of trained professional emcees, we have established partnerships with "Special Talent" emcees who can bring unique skills or experiences to bear, making the event even more enjoyable and memorable – including celebrities, comedians, media personalities, magicians, improvisers, DJs and more. Increased demand for TrivWorks' services in the Western United States led to the 2016 establishment of a Southern California office in Long Beach, providing West Coast corporate audiences with the same professional team trivia entertainment our Eastern United States clients have enjoyed. With emcee talent based on both coasts, TrivWorks produces events NATIONWIDE!