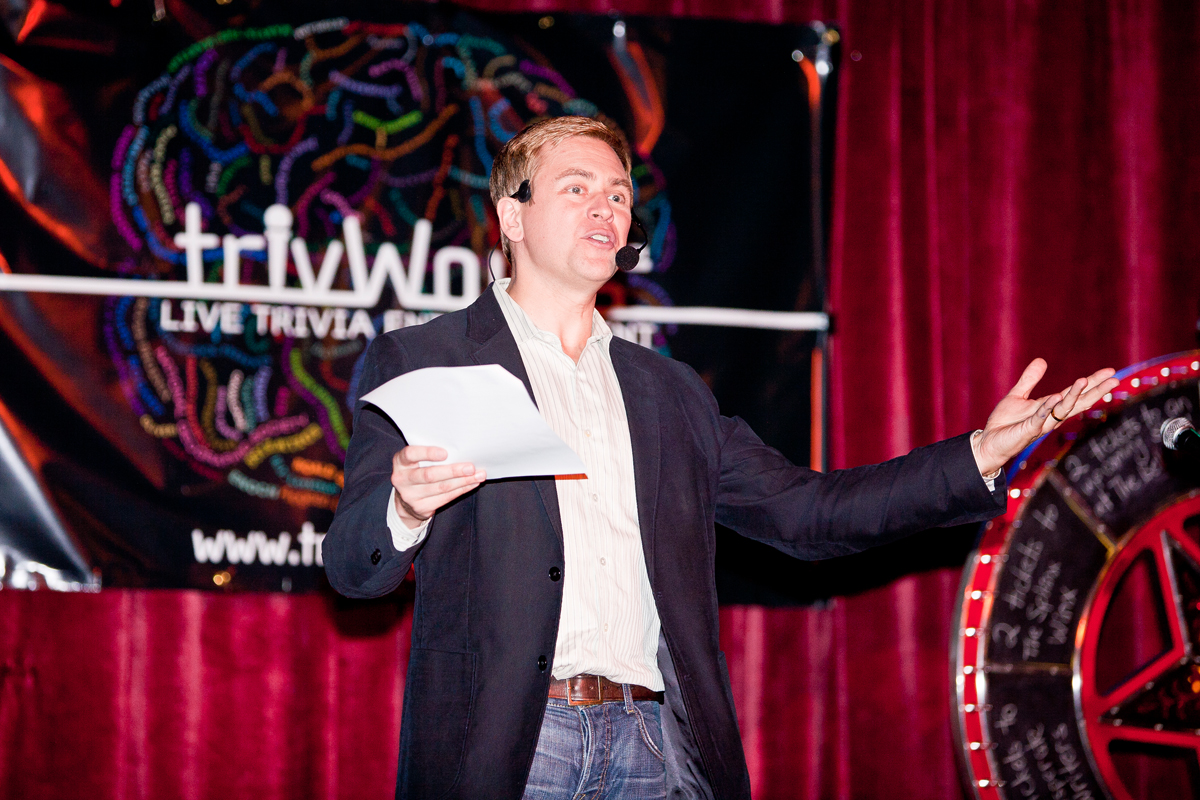 TrivWorks™ is a professional trivia event production company, providing the very best in live customized game show-style trivia entertainment and corporate team building. Established in 2009, we are the industry leader in producing collaborative team trivia event entertainment for corporate, non-profit and private groups. With talent based in New York City and Southern California, we are available NATIONWIDE to entertain audiences as small as 15, to 1,500+!
Professionally hosted, highly engaging and fostering immediate collaboration, TrivWorks provides audiences of all types with meaningful corporate event entertainment and team building activities which are personalized and impctful. Trusting TrivWorks™ to produce your next group bonding or corporate entertainment event guarantees that your attendees will have a laugh-filled shared experience like no other – and that you shall receive the first-rate level of client service you expect.
Exciting Team Collaboration – Competitive Corporate Event Entertainment
Customized, competitive and social, our team trivia events naturally blend collaboration, brainpower and sharp-witted humor to produce positive memorable experiences. A proven solution for entertaining diverse groups from all backgrounds and industries, we cleverly customize the questions to your specific audience and goals in order to maximize the event's impact, value and fun!
TrivWorks™ clients range from Fortune 500 companies to small businesses, as well as nonprofit organizations, educational institutions and individuals seeking to provide unique and memorable event entertainment. Check out what our clients have to say about our unique events!
The Industry Leader in Professional Trivia Events
Leveraging almost a decade of specialized experience in corporate trivia event production, question writing, and professional hosting by trained event emcees and "Special Talent" emcees, TrivWorks™ events are guaranteed to be engaging, competitive and collaborative. Whether you seek to reward hard-working employees or entertain loyal clients, boost morale and encourage teamwork, or provide unique customized entertainment at your next function, TrivWorks™ is for you!
Call (855) TRIVWORKS today to learn how we can create an event for your group!
Follow this link to learn more about TrivWorks founder & CEO David Jacobson