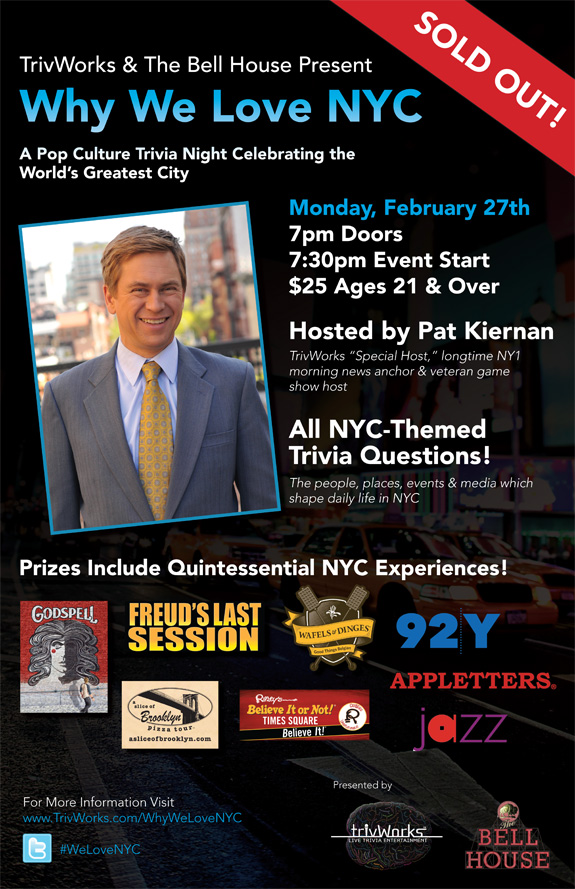 In a very special event, we invite you to spend an evening with TrivWorks "Special Host" Pat Kiernan, longtime NYC television anchor & veteran game show host, by participating in an exhilarating, high-energy team trivia contest about the city we care about most!
Marking 15 years since Pat began providing New Yorkers with a smart and sharp-witted wake-up on his popular NY1 morning news segment, the founder of Pat's Papers tests your pop culture knowledge of the people, places and events which shape daily life in our city, as well as famous adaptations of the Big Apple on the big and small screen.
Featuring
multiple rounds of team trivia
and a high-stakes "showdown" finale, all attendees will be entered into a raffle to play one-on-one trivia onstage with Pat, with the chance to win tickets to quintessential New York City experiences including Broadway & off-Broadway shows
Godspell
and
Freud's Last Session
, A Slice of Brooklyn Pizza Tour (voted #1 tour of Brooklyn by Tripadvisor), 92Y lectures and Jazz at Lincoln Center concerts, as well as Ripley's Believe It or Not! Times Square, The Waffle Truck, Appletters and more!
*Note: Due to popular demand, we have added a 2nd event date:
Monday, February 27th, 7:30pm!
Featuring ALL NEW TRIVIA QUESTIONS!
*UPDATE: 2nd Event SOLD OUT!