Event Recap: "Why We Love NYC" Trivia at The Bell House Hosted by Pat Kiernan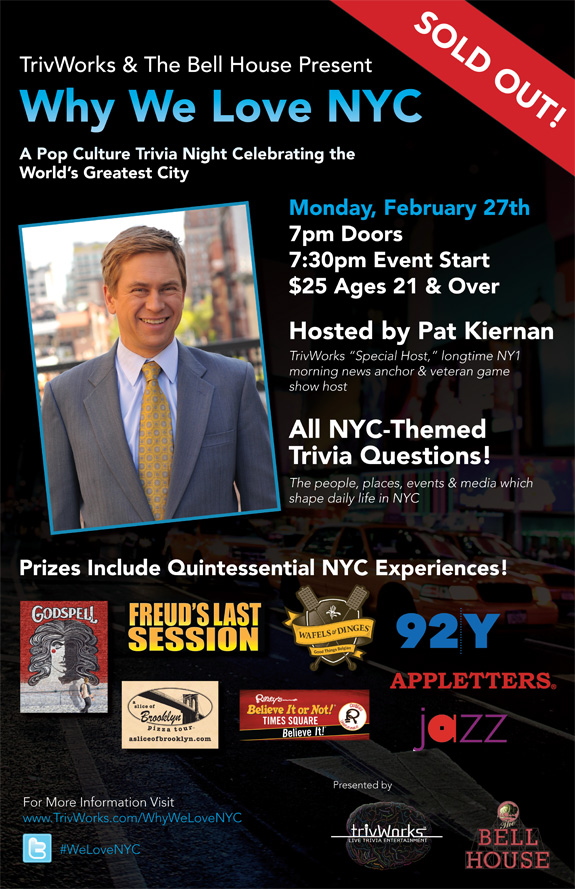 Last night, the TrivWorks team had the honor of returning to The Bell House in Brooklyn for the 2nd edition of "Why We Love NYC – A Pop Culture Trivia Night Celebrating the World's Greatest City" hosted by our "Special Host" Pat Kiernan. Like our incredibly successful event last month, this event was also completely SOLD OUT, with 300 trivia lovers packed into the spacious Main Room for an insanely fun, high-energy night of competitive team trivia!
After taking the stage to thunderous applause and Huey Lewis's "Heart of Rock and Roll" blaring through the speakers, Pat dove right in to the first of four rounds of team trivia, "NYC Movie Plots." While our army of "Pat's Pages" went to work collecting and tabulating score sheets from nearly 70 teams in attendance, Pat drew a raffle and invited 2 lucky participants onstage to compete in a 1-on-1 "mini-game" contest of NYC pop culture trivia, the theme being "Song Lyrics from NYC Artists/Bands." Pat's longtime fans from both NY1 and The World Series of Pop Culture delighted in hearing him read out lyrics in his signature deadpan ("Bang bang, the boogie to the boogie say up, jump the boogie to the bang bang boogie," anyone?), as well as treating the audience to an impromptu rendition of "Copacabana."
The winner of the "mini-game" was able to spin the prize wheel, featuring our "quintessential NYC experiences" such as Jazz at Lincoln Center, 92Y, A Slice of Brooklyn Pizza Tour, Freud's Last Session and others. As a consolation prize to the other contestant, Pat gave away Appletters games, as well as the official TrivWorks lip balm.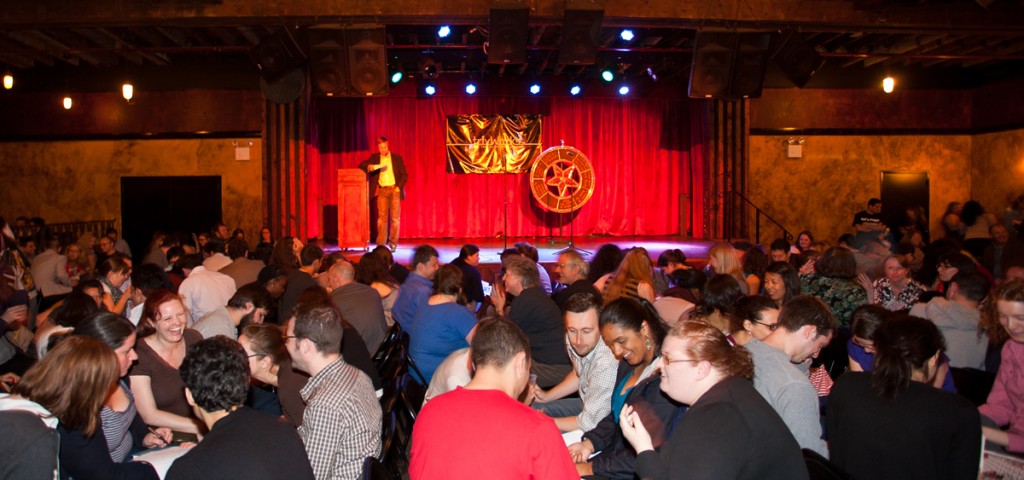 Next up was another round of team trivia for the entire room, "NYC Culture, Entertainment & Nightlife," which tested attendees' knowledge of Coney Island, The Blue Note, Chumley's and even the infamous Tunnel nightclub, followed by another "mini-game" dedicated to "Eating in NYC" – where intimate knowledge of Arthur Avenue, Barney Greengrass & Hebrew National was rewarded with a spin of the prize wheel.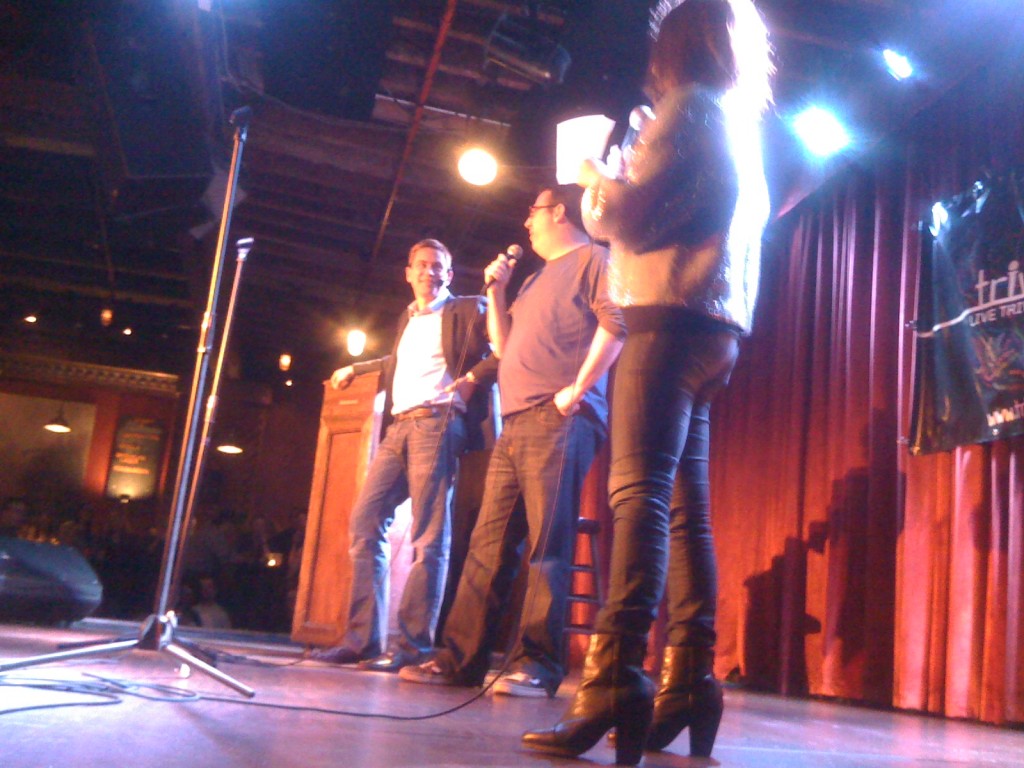 For Round 3, Pat played 10 snippets of songs stolen from the IPod of his colleague Roger Clark, and awarded teams a point each for identifying the artist and song title. Before drawing from the raffle bowl to bring up the next "mini-game" contestants, however, a fuming Roger Clark suddenly took the stage, perhaps embarrassed by the reveal of his musical taste (Van Halen and Motley Crue, somehow interspersed with Wilson Philips and New Kids on the Block). Eager to redeem himself, Roger challenged Pat to a head-to-head NYC trivia contest of their own.
Fortunately, Pat & Roger's colleague Jamie Shupak was also in attendance, and happened to have 10 of her favorite NYC trivia questions handy. Taking the stage, the audience was delighted to watch Jamie quiz Pat and Roger in a "trivia showdown" about her favorite NYC-centric TV show Gossip Girl, NYC bridges & tunnels, DailyCandy and yoga positions (watching Pat & Roger suffer through the "downward dog" question was a particular highlight). Pat proved to be the champion, and was awarded an autographed photo of Jamie; as a consolation prize, Roger was given the "Shupak 3-Pack," consisting of the 3 current issues of Cosmopolitan, Us Weekly and Glamour magazines.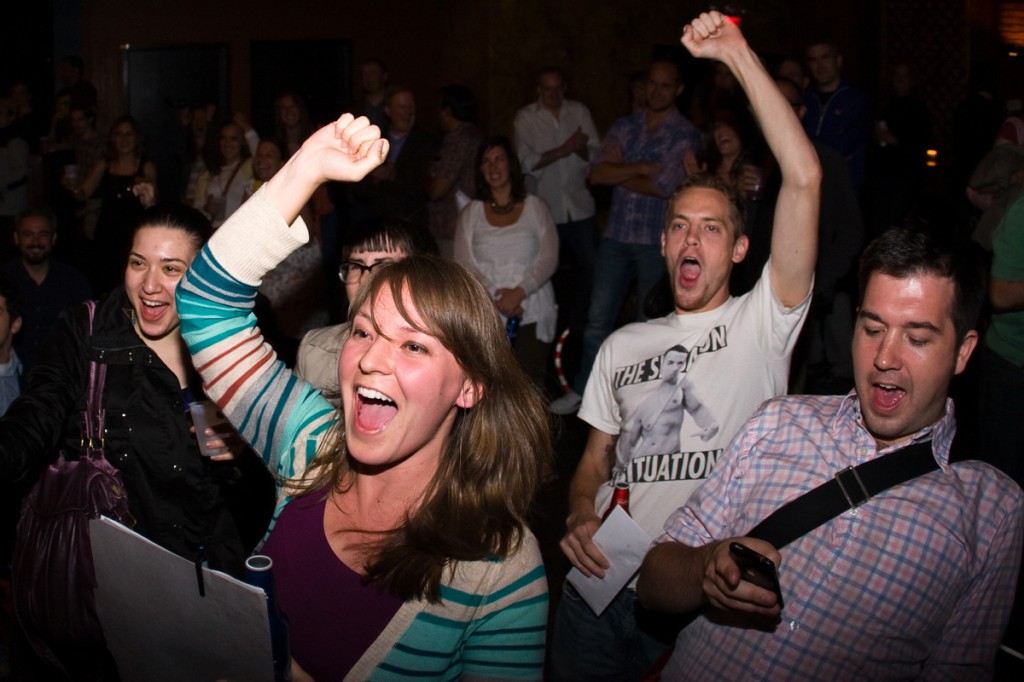 The contest continued with a "mini-game" entitled "NYC on TV," with participants demonstrating their knowledge of Spin City, Law & Order and SNL. A final team trivia round, "Pat's Picks," were 10 harder NYC trivia questions, with teams getting 2 points each for knowing things like which all-female band sold out MSG in 12 minutes in 1998 (The Spice Girls) as well as NYC's own official groundhog weatherman (Staten Island Chuck). A final "mini-game" was dedicated to quotes by famous New Yorkers, including gems such as "How'm I Doing?" (Ed Koch) and "You have to stop the Q-tip when there's resistance!" (Chandler Bing).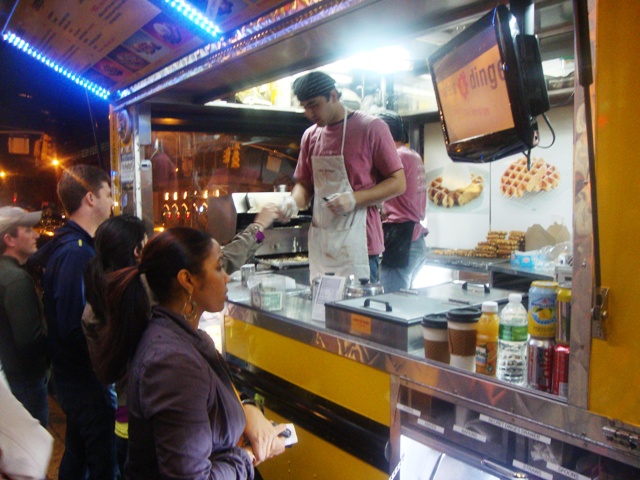 As a grand finale, the top two teams were invited onstage for a trivia "showdown" to determine the overall winner, with both team's participants getting the chance to step up to the mic and answer 1-off questions with such topics as "Awkward Celebrity Romances," "Boogiedown Box Office" and "Coming to America." The winning team clinched it with "Prima Madonna," knowing that the Material Girl's first title role was in the 1985 East Village classic "Desperately Seeking Susan" – in so doing, winning tickets for the entire team to see Godspell on Broadway. The second place team was each awarded a ticket to come back to a future show at The Bell House.
Throughout the event, attendees were thrilled to have the Wafels & Dinges cart strategically placed outside, serving up their incredible deserts for all to enjoy throughout the evening. We also had a great back-channel conversation going on Twitter, with the social media-friendly crowd using the event's official #WeLoveNYC hashtag.
On behalf of Pat and the TrivWorks team, we would like to thank our host venue and incredible prize partners who made this event possible, and allowed us to give away truly "quintessential NYC experiences":
Godspell on Broadway
Freud's Last Session
Jazz at Lincoln Center
Wafels & Dinges
A Slice of Brooklyn Pizza Tour
92Y
Ripley's Believe It or Not! Times Square
Appletters
We also would like to thank Roger Clark and Jamie Shupak for making the evening extra-special, as well as all who attended and enjoyed what was truly the greatest NYC trivia night in memory!
For those who were not able to secure tickets to last night's sold-out event, we have just announced a NEW Bell House trivia night with host Pat Kiernan on Tuesday, April 24th. Tickets are on sale NOW, and are already going fast – please click here to purchase!
If you would like to learn more about having Pat host a fully-customized trivia event for your company, corporate event or fund raiser, please Email me directly david@trivworks.com. Also, make sure you tune in on Wednesday, March 7th as Pat guest co-hosts Live! With Kelly!