Why I Love Hosting Corporate Trivia Events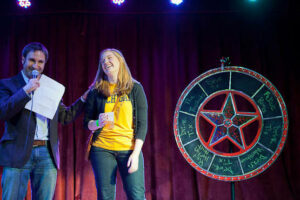 This past week, I got to host a corporate trivia event in New York City onsite in the office, as well as attend another larger one I set up emceed by Ophira Eisenberg, longtime comedian and former host of NPR's Ask Me Another whom I've been working with for many years now. Since moving to California eight years ago, the number of events I've personally emceed has dropped significantly, as the majority of my clients are still in the NYC area and events are led by local talent. As such, being a part of these East Coast events left me buzzing about how much I enjoy this unique form of interactive event entertainment, and why I started TrivWorks in the first place.
Humble Beginnings
I didn't know at the outset I wanted to be a professional trivia host for company events. It's not like this was a lifelong ambition, or that I even desired to be a performer of any kind. Those who know me, or have followed this blog since I first started writing about 12-13 years ago, know that the path to my current position was anything but straight. In fact, it was born out of desperation: I was working a very low-paying job at a nonprofit in Manhattan, and to help make ends meet I took a gig (or rather fell into a gig) hosting pub quiz nights on the Upper East Side, Hell's Kitchen and in Gowanus, Brooklyn.
A few years into my surprisingly successful side gig, the global financial crisis of 2008-2009 got me thinking that there must be an opportunity to capture the humor, raucous energy and good-natured competition of my bar trivia nights and package it for corporate/private consumption. I got my new venture off the ground, and within a couple of years I was able to make it my full-time job, which it has been ever since.
Expanding Horizons
The original idea was for TrivWorks to be a means of employee reward, for companies who wanted to thank their overworked employees and boost workplace morale but didn't have the capability to do so financially during unstable economic times. However, I soon found out there were other demands for my unique services as well: group bonding, client reward/loyalty, summer intern entertainment, new employee onboarding, brand engagement/activation, college & university events, holiday party entertainment and so much more.
And you know what? They're ALL fun to host!
What Makes it Great
I'll admit, during those early years when I was first starting out at the bars in NYC, I was pretty much doing it for me. Clearly a reflection of the insecurities I felt at the time, I basked in the glow of attention and the reward of laughs I received as I led upwards of 100+ people through two hours of team trivia competition, using questions I myself had written.
I've matured greatly since then, and especially since starting my company I've come to realize it is NOT about me, but about the audience. Jerry Seinfeld actually sums this up better than I ever could in this brief interview clip:
When I grab a microphone and bound onstage to lead a trivia gig somewhere, it's no longer about filling some need I have in myself, but in trying to give the people out there as great an experience as I possibly can.
Luckily, what makes the event great for the audience is also the most fun thing for me as the host. I truly love giving people a good time. I receive a tremendous amount of satisfaction seeing people laugh, smile, clap or otherwise have a fantastic experience, as a result of something I've done. However, the payoff for me is no longer the feeling of validation and acceptance I used to chase by eliciting a roaring laugh or mighty cheer, but rather the satisfaction in knowing that the people in attendance are having an absolute blast – and I'm playing a part in making that happen.
Conclusion
Team trivia is a phenomenal way to engage a corporate audience with fun, interactive and competitive event entertainment. It's a great time not only for the attendees, but for the host as well. I've led more of these events than quite possibly anyone else on the planet, and it's still one of the most exciting and enjoyable things I'm blessed to be able to do. Whereas once it was all about me, it is now firmly about providing a meaningful, impactful and memorable experience for those attending. But it's still such a tremendous joy being a corporate trivia emcee, and I count my lucky stars every day to be able to travel all over the country doing something I truly love.