Why We're Producing "90s vs 00s" Pop Culture Trivia Night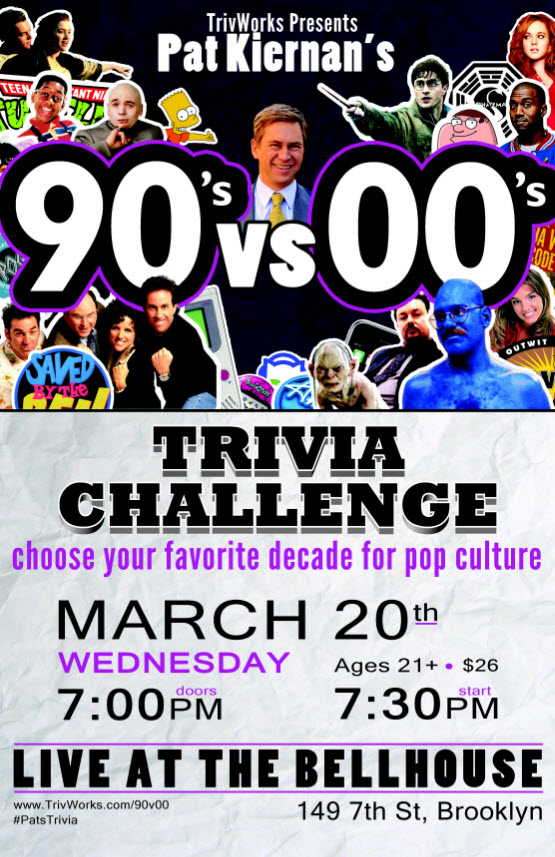 Earlier this week, we announced a very special event: 90s vs 00s pop culture trivia night, hosted by NYC's greatest trivia host Pat Kiernan at The Bell House in Brooklyn! We are super psyched – and, judging by the reaction we've seen online thus far, so are NYC's pop culture trivia lovers.
But why are we doing this?
After all, we are NYC's corporate entertainment & team building trivia specialists, not a bar trivia company – our mission is to create fun, highly customized experiences for specific groups of people, intended to get them to know one another better. How, then, does a pop culture trivia night for 300 complete strangers fit in with our mission?
When we first started producing these events at The Bell House last year, the idea was to create a fun and engaging experience to mark Pat's 15th year as NY1's morning news anchor. We didn't really know what to expect, but what happened surprised us: the event sold out, and FAST. So, we added another date – which also sold out!
What this made us realize was that there is a strong demand here in Gotham for a premium live trivia experience like we provide for our corporate clients, yet which is open to the public. While there are tons of both trivia fans & Pat Kiernan fans out there who would love to have us come create an event for their office, as a premium brand our corporate events aren't cheap –  and as such, aren't for every company. But if we were to go this route and start producing trivia nights open to everybody, how could we possibly customize events for the public like we would for our corporate clients?
The answer, we realized, is pop culture.
In so many ways, pop culture is perfect for trivia events – both corporate and public. For a private event, when we customize the questions we're looking for unique past shared experiences to draw off of: inside jokes, office humor, what happened at last year's holiday party, what the boss's ringtone is etc. With these big events open to the public, however, when we don't have the personal shared experience to fall back on (assuming that all 300 people don't know each other, let alone have a single previous shared experience), carefully selected pop culture trivia fills that void.
While they may not know each other, an audience of smart & hip young Brooklynites most certainly knows their TV, movies, current events/fads, celebrity gossip and more. These pop culture references become the shared experiences we are looking for, and as we discovered last year can be crafted towards specific broad themes – hence "90s vs 00s," which should give a wide enough net to allow just about any trivia-loving Pat Kiernan fan in their 20s/30s to feel welcome.
So, there you have it! We are delighted to have found a special way to share our services with those who wouldn't otherwise enjoy an opportunity to do so, and intend to come back to The Bell House a couple of other times throughout 2013 as well.
Hope to see you there!