Rolling With It: Managing the Unexpected with Corporate Entertainment Events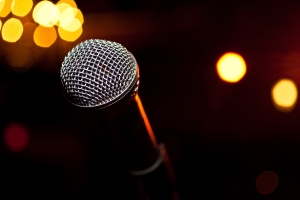 I haven't had the chance to post much here on the TrivWorks blog recently, and for good reason: I've been trapped in a cascading series of travel fiascos.
It began last week, when I woke up at 2am to catch an early flight out of LAX Airport headed to Montreal. I hailed an Uber and waited…and waited…growing more anxious by the minute as I feared missing my flight. After cancelling and re-hailing several times, the price suddenly TRIPLED – upon which a driver immediately took my ride.
Lovely. And unfortunately, this was the least-stressful and annoying part of my journey.
When I arrived at the airport, I was told I couldn't check in for my international flight. Why? "Something's wrong with the system on their end." What system, whose end, I have no idea. But I was waiting there for a half an hour while the agent behind the check-in counter played games on her cell phone, "waiting for the supervisor to call."
I finally got checked in and settled into the waiting area, only to find that my flight was delayed. Against my better judgement, I had booked a connecting transcontinental flight from LA to Montreal, rather than flying directly, with a tight connection at Chicago's O'Hare. Already nervous about catching the next leg of my trip, I suddenly felt a firm tightening in my stomach…
The plane took off, and several hours later we landed in the Windy City. Looking at my app, I saw that I had three – THREE – minutes before my connecting flight boarded. I bolted out of the plane, and was literally "that guy" full-on sprinting through the airport, roller bag in tow, desperately trying to make it in time. I careened around the final corner to my gate, and the sign above the counter said, "Boarding Shortly."
Huh?
I looked at my app to confirm I was in the right place, and the news there was even worse: "Flight Cancelled"
Wonderful.
A fierce summer storm in the area had forced the cancellation of basically every flight. The line at the airline's customer service desk was a mile long. When I looked online, I'd been automatically rebooked to another flight, which left the FOLLOWING DAY.
Fortunately, I was able to purchase another ticket on another flight with another airline, which departed in six hours (as of this writing, I'm still trying to get my money back for the cancelled leg of my original itinerary). Six hours at the airport is a long time, but what choice did I have? I downed a Chicago dog and a beer and toughed it out, until my next flight boarded and was ready for takeoff.
Or so I thought…
No sooner had we boarded the aircraft then an emergency alert screamed across everyone's phones. A tornado had apparently touched down at O'Hare airport, sending folks inside the terminal scrambling for shelters and promoting a full ground stop. We were stuck on the tarmac for 2 hours before finally taking off, landing in Montreal after midnight local time.
The brief time I had in Canada was fantastic. The most memorable experience was getting to visit perhaps my favorite restaurant in the world, Au Pied de Cochon, and enjoy the most delightfully rich and over-the-top dishes with a couple of friends who had also made their way up North for the experience. We had a blast.
Fast forward a couple of days, and my travel companions and I were back at the airport for the next leg of my journey headed from Montreal to New York City. No sooner had we cleared security and customs when – you guessed it – I received an alert that my flight had once again been cancelled. My buddies' flights were still on, so just my dumb luck I suppose.
The only direct flights back to NYC weren't for another TWO days (unless I wanted to fly there that night via Miami, which I did NOT). The trains were a no-go since the tracks were flooded due to recent storms, and apparently I couldn't rent a car in Canada and drive it one-way to the U.S. Not wanting to risk another missed connection to another city for what should have been a very quick flight, I opted instead to stay an additional night in Montreal, then fly to Boston the next day and take Amtrak to my final destination in NYC.
Was I frustrated? You bet. But you know what? I wasn't in an urgent rush to get to the Big Apple, and I had everything with me I needed to live and work, so what the heck? I decided to make the most of it. You know what I did?
That night, I went BACK to the same restaurant we'd been to the night before, only this time as a solo diner at the bar. It was an entirely different experience! I felt like I was Anthony Bourdain sitting there, facing the open kitchen, kibbitzing with the line cooks and servers about how special of a place it was. I never in a million years thought I'd ever be at this restaurant by myself, and it was an absolutely unforgettable night.
What's my point in telling you all of this? Simply put, as an event producer and professional corporate trivia entertainment emcee, I feel I'm under immense pressure to stick to the plan, to not deviate from what's been agreed to, to deliver what's expected in a timely and professional manner. But sometimes, life happens. I have to be flexible, to adapt to unexpected situations, and understand that sometimes things are just beyond my (or anyone's) control.
A similar misadventure happened to me about 6 years ago, also when traveling from the U.S. to Canada. It was a different situation, however I didn't handle it very well (you can learn more about THAT one by clicking here).
As I write this, I've just finished up producing two successful corporate trivia events in Manhattan. Both gigs were hits, but both also had some quirky things happen, which we had to roll with. As two of my emcees told me – separately, by the way, which is how I know to listen – this is why I hire trained improv professionals as trivia hosts. Not everybody can deal with the unexpected well, but these folks do.
And I'm proud to say, I'm learning to do the same as well!