Event Recap: Pat Kiernan's Ultimate 90s Trivia Night
This week, we were delighted to host another of our very special public trivia nights at The Bell House hosted by NY1 morning news anchor Pat Kiernan! As with our first 90s-themed trivia night in April, the event was completely sold out with 300 attendees who participated in a raucous, high-energy contest of pop culture knowledge from the decade!
Upon arrival at the venue, attendees were greeted by TrivWorks staff handing out answer packets, pens, and raffle tickets as upbeat 90s music blared over the sound system, and the delicious aromas of the Waffle Truck wafted through the lobby. Pat took the stage to the appropriately high-energy 90s hit "Tubthumping," and following a brief orientation dived in to the first of 4 rounds of trivia for the entire room, "90s Movie Flops" (these were followed by "Big Names in 90s Pop Culture," an audio round of "90s TV Theme Songs," and a harder round of "Pat's Picks" trivia questions worth 2 points each).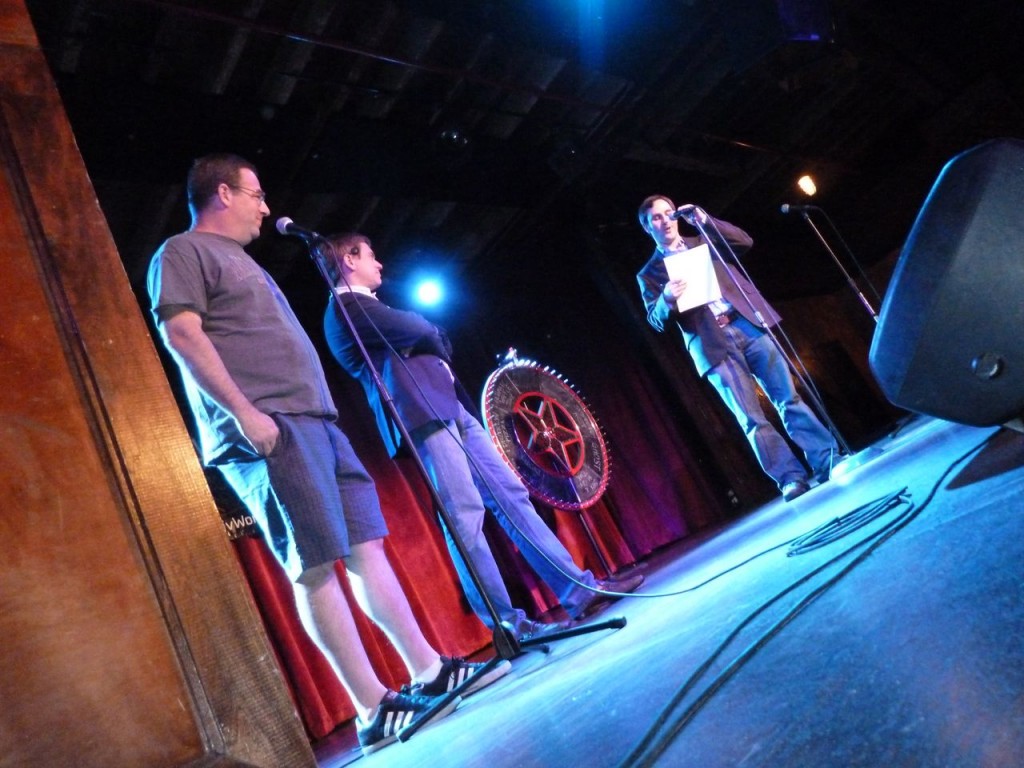 In between rounds, while the TrivWorks squad of "Pat's Pages" collected & scored answer sheets, Pat conducted raffle drawings to invite 2 lucky attendees at a time onstage for 1-on-1 trivia, and the chance to win big prizes. The themes for these "mini games" included "90s 1-Hit Wonder Song Lyrics" (hysterically read in Pat's signature deadpan), "90s TV Cartoons," "90s Fad Etymology" & "90s Scandals." The winner of each round was given the chance to spin the prize wheel and win one of our amazing prizes including tickets to appropriately-themed Broadway & off-Broadway shows, tours and more. However, nobody left the stage without other goodies including candies popular in the 90s like Butterfingers, Airheads, Ring Pops and Big League Chew, and Pat was giving away armloads of Gak and Flom generously provided by Nickelodeon.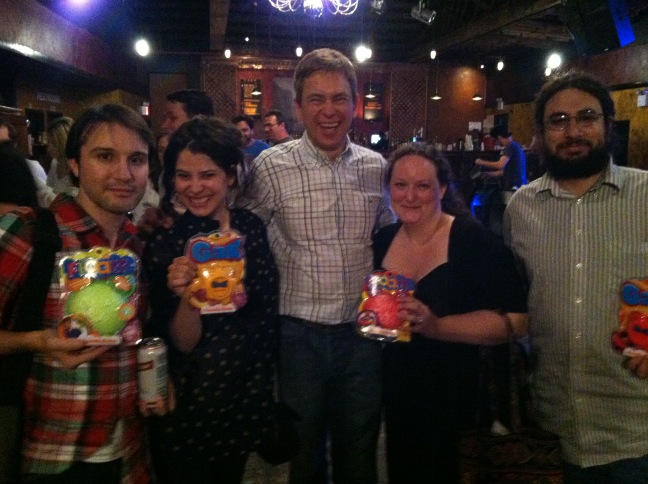 Midway through the event, the audience was treated to a surprise onstage appearance by Pat's colleague Roger Clark – who, after some reminiscing about his previous loss to Pat in a trivia "showdown" at our February event, unexpectedly challenged Pat to a rematch. Luckily, we had a backup round of "90s Media Circuses" on-hand, so I was able to moderate another showdown between the two great NYC newsmen (which ended in a tie).
Throughout the event we had a great back-channel dialogue going on Twitter, as attendees shared their experience using our official #90sTrivia hastag. As a grand finale, the top two teams were invited onstage to participate in a high-stakes "showdown" to determine the overall winner. Each member of both teams took a turn stepping up to the mic, and were asked individual questions by Pat for a point each – the first team to reach 5 points was declared to be the winner!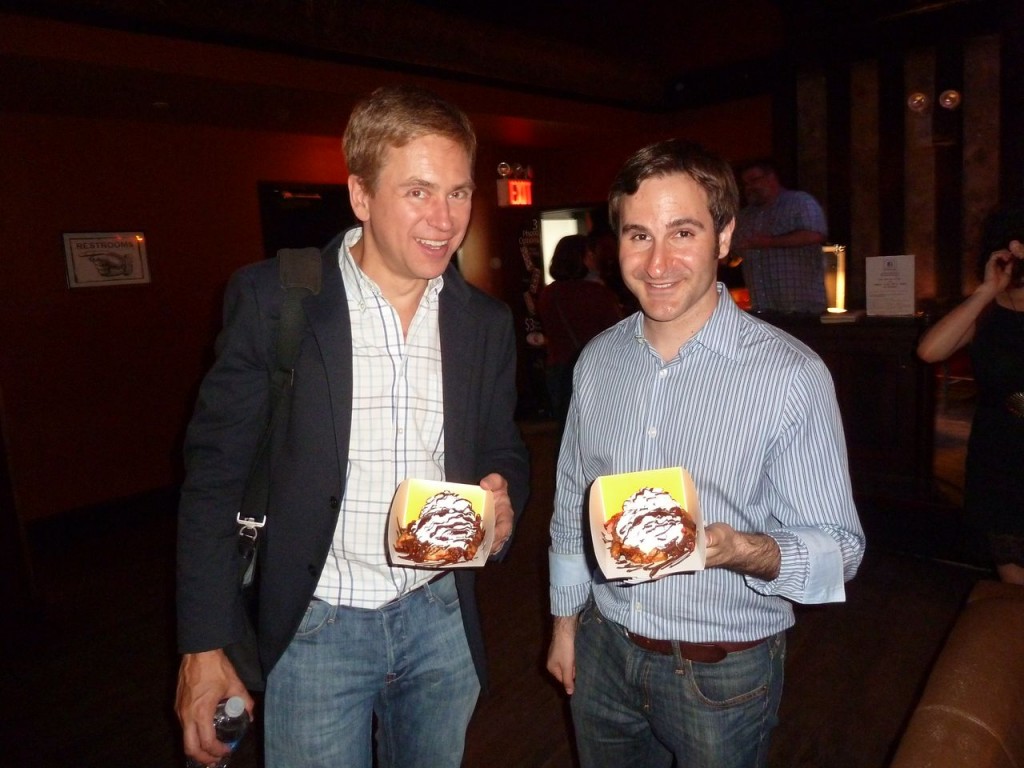 On behalf of Pat and the TrivWorks team, I would like to thank The Bell House, all of our fantastic prize partners, Wafles & Dinges, and of course everyone in attendance for creating another extremely enjoyable and memorable trivia night! To learn how Pat can recreate the experience by hosting a customized trivia event for your company, conference or fund raiser, please click the above link.
New Event Date Announced!
We have also announced a new event date! Pat will be returning to The Bell House on Tuesday, August 21st for another public trivia night – the event is expected to sell out quickly, tickets are on sale now!
Choose the Theme!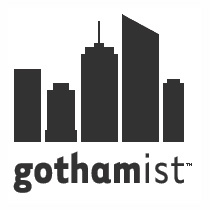 We have partnered with Gothamist to create a special poll/contest for August 21st, whereby YOU will choose the theme! Cast your vote for what kind of trivia you would like Pat to ask this summer, and be entered into a contest to win 2 free tickets to the show!
(Thank you Traci Cappiello for snapping some great photos at the event!)